Fancy a Maple Turkey Bacon Doughnut?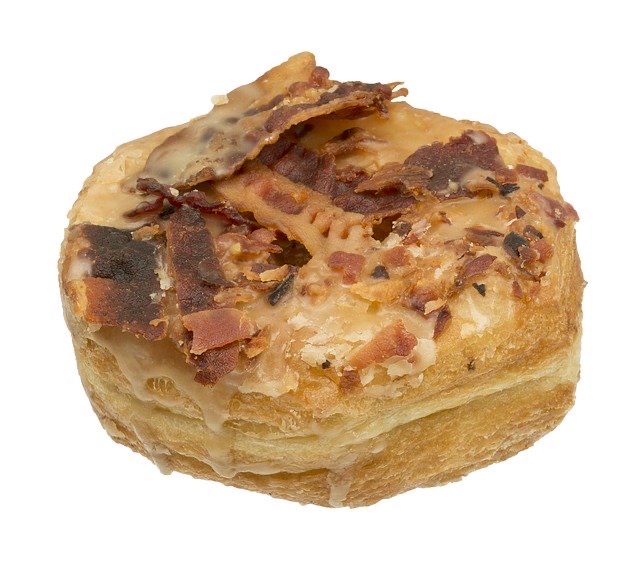 I watched the latest Denzel Washington movie, Roman J. Israel, Esquire the other day on Netflix. I like Denzel, he rarely makes a bad film, and on this occasion he was nominated for an Oscar.
The plot is not relevant in this case, but a reference is made during a heated conversation, about going to the beach, chilling out and having a Maple Turkey Bacon Doughnut. In a way this sounds idyllic, sitting on the beach, relaxing and enjoying a doughnut, but on the other hand eating a Maple Turkey Bacon Doughnut sounds disgusting! Actually it turns out that this particular doughnut was created specifically for the film, and Denzel's dietary requirements, by a company called Johnny Doughnuts.
I was intrigued by this, so I did a little research, and it turns out that Johnny Doughnuts was started in 2012, not by a man not called 'Johnny' as it happens, but by Craig Blum, who was originally part of the team at Hard Rock Café and the company is based in the San Francisco area.
Whilst there isn't a Maple Turkey Bacon Doughnut on the menu, there is a Maple Bacon Doughnut and it's very popular. These doughnuts are served throughout the 'Bay area' via a fleet of doughnut trucks. The trucks are unique with a simple vintage design but with a modern twist in their floor-to-ceiling glass display cases. These trucks are very popular at outdoor events and can hold up to 1300 doughnuts – a lot of calories!
The clever thing about all this is that Johnny Doughnuts have created a cult following, it's cool to have their van at an event, it's cool to be seen buying their product, the flavours are different to the normal run of the mill glazed or jam doughnuts. They are a cool brand and that's something every business wants to be.
I'm off now to have a doughnut, maybe I'll invent a Marmite one?